Chief executive's report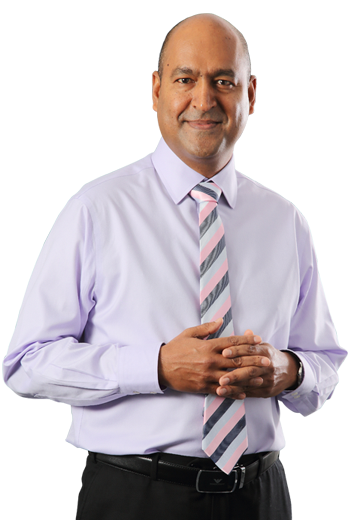 Vikesh Ramsunder
It is a pleasure to report to shareholders for the first time following my appointment as chief executive officer of the Clicks Group in January this year.
Sustained growth momentum
2019 has seen the group sustain its growth momentum of recent years and deliver another highly competitive and resilient performance in challenging trading conditions. We have maintained our focus on the domestic market, executed tight operational disciplines, entrenched the market leadership of Clicks and UPD and continued to invest in our store network, with Clicks opening its 700th store in August 2019.
It has also been a year of record cash generation, sustained capital investment and enhanced returns to shareholders. Our financial performance has been supported by our focus on customer engagement, the investment in our people and our commitment to environmental, social and governance practices.
My predecessor, David Kneale, has left an incredible legacy. David had a distinguished career over 13 years at the helm of the group and made a significant contribution to the growth, development and value creation in the business. On a personal note, I thank David for the mentorship role he has played in my career over several years and for ensuring a seamless transition in group leadership.
"Our core product categories are defensive and we have continued to attract customers by being relevant and offering value."
Strong and resilient performance
In an environment of low economic growth and intense pressure on consumer spending, both the retail and distribution businesses reported strong growth. While our business is certainly not immune to the economic slowdown, our core product categories are defensive and we have continued to attract customers by being relevant and offering value.
Retail health and beauty sales, including Clicks and the franchise brands of The Body Shop, GNC and Claire's, increased by 10.5%. Sales in comparable stores increased by 6.9% and showed strong volume growth of 5.8%, with inflation of only 1.1% for the year. Clicks was voted by customers as the number one health and beauty store and pharmaceutical outlet in the Sunday Times/Sowetan Shopper Survey for 2019.
We continued to focus on our positioning as a value retailer by offering customers competitive everyday pricing and appealing promotions.
Value is increasingly relevant to consumers in the tough economic climate and Clicks remains price competitive with all major national competitors. Customers are also spending an increasing proportion of their purchases on promotions, evidenced by the 19.5% increase in promotional sales which now account for 38.4% of turnover in Clicks.
"One in four medicines sold in South Africa today is from a Clicks pharmacy."
Robust sales growth, together with the expansion of the store and pharmacy footprint, enabled Clicks to gain market share across all merchandise categories. Front shop health market share increased to 31.4% and retail pharmacy market share to 24.9%, with one in four medicines sold in South Africa today being from a Clicks pharmacy. Market share of the baby category rose to 17.0%. In the beauty category, skincare market share grew to 37.6% and haircare to 29.5%.
UPD also performed well, growing its operating margin by 60 basis points by gaining new bulk distribution clients. The business increased its wholesale turnover by 6.8% and grew its market share to 27.0% at August 2019.
Total group turnover for the year increased by 7.2% to R31.4 billion. The financial performance is detailed in the chief financial officer's report, and the trading performance of Clicks and UPD is covered in the business review section.
Delivering on our strategy
The group's strategy has been consistently applied over the past year and the directors believe the strategy remains relevant and appropriate in the current retail environment. The strategy is supported by favourable market dynamics for health and beauty which should ensure sustained organic growth. Refer to the group strategy and value-creating business model for further detail.
The retail component of the strategy is focused on the three pillars of convenience, differentiation and personalisation, with encouraging progress being made on delivering on these strategic areas over the past year.
Clicks opened 41 new stores, for the second successive year, and expanded the chain to 704 stores, with 37 outside of South Africa. The store opening programme was accelerated in 2019 beyond the targeted 25 to 30 stores owing to opportunities for new space becoming available in existing shopping centres.
Our online store extends customer convenience and is currently the fastest-growing Clicks store. While the contribution to overall sales is low and equates to the turnover of a medium-sized store, online is expected to grow into the largest Clicks store in the medium term as online retail penetration grows in South Africa.
Clicks is the country's largest retail pharmacy chain and expanded the network to 545 with the opening of 35 pharmacies during the year. There are currently 76 Clicks stores still to get a pharmacy, which excludes stores where we do not plan to open a pharmacy, mostly non-South African stores, the Netcare hospitals and stores identified to be closed.
Currently 51% of the population live within five kilometres of a Clicks store and within six kilometres of a Clicks pharmacy, highlighting the convenience of the chain and our progress in making healthcare even more accessible to South Africans.
We remain committed to our goal of 900 Clicks stores in South Africa, with a pharmacy in every store.
Private label, exclusive and international franchise brands ensure Clicks provides differentiated products and offers customers a significant alternative to a branded product. Sales of private label and exclusive products grew by 15.6% and accounted for 21.7% of total sales in Clicks, with front shop sales at 29.1% and pharmacy at 7.1%. Our goal is to increase the contribution to 25% of total sales.
"Currently 51% of the population live within five kilometres of a Clicks store."
ClubCard increased its active membership to 8.1 million and accounted for 77.6% of sales in Clicks. Over R500 million was paid out to ClubCard members in cashback rewards. The Clicks mobile app is a virtual ClubCard and presents a strategic opportunity to personalise communication and influence customer behaviour by leveraging digital engagement.
UPD provides an efficient healthcare supply chain for Clicks which accounts for 55% of UPD's wholesale turnover. UPD has continued to reap the benefits of its strategy, which includes operating a bulk distribution business in tandem with its fine wholesaling business, with UPD's total managed turnover increasing by 17.6% to R21.1 billion. In the past year UPD gained four new distribution contracts and increased its portfolio of bulk distribution clients to 30. Clicks and the private hospital groups account for 83% of UPD's wholesale turnover, supporting the long-term sustainability of the business.
Our extensive store network and integrated supply chain provide competitive advantages which we aim to maintain by continued investment of over R2 billion over the next three years.
Investing in our people
One of the highlights of the year was the vesting of the final 50% of the group's employee share ownership programme (ESOP) with the payout of R1.5 billion to almost 7 800 beneficiaries. This brought the cumulative ESOP payout over the past two years to R2.8 billion, an average of R355 000 per employee. Beneficiaries also received dividends totalling R39 million over the course of the programme.
Launched in 2011, the ESOP successfully delivered on its objectives of attracting and retaining scarce and specialist skills, accelerating transformation and enabling employees to share in the growth of the business through equity ownership.
"R2.8 billion was paid out to beneficiaries of the employee share ownership programme."
In addition to the wealth created for employees, R100 million was donated from the ESOP Trust to the New Clicks Foundation to fund 100 bursaries annually for talented, previously disadvantaged South Africans.
In January 2019 the group introduced 100% company-funded primary health insurance to over 9 000 employees who were not covered by a medical aid. The annual cost of the scheme is approximately R31 million.
These initiatives have contributed to Clicks Group again being recognised as the top employer in the retail sector in South Africa by the Top Employers Institute.
Refer to the creating value through good citizenship report for further detail on our investment in our people.
"Clicks Group was again recognised as the top employer in the retail sector in South Africa."
National Health Insurance
We have long held the view that pharmacy can play a leading role in delivering government's healthcare agenda of increasing access to affordable healthcare. Retail pharmacy provides a convenient network for state patients to collect chronic medicines and relieve the pressure on overburdened and underresourced state facilities. Clicks has partnered with the Department of Health and over 420 of our pharmacies are registered as collection points for state chronic medicine parcels.
The publication of the National Health Insurance (NHI) Bill in August this year outlined the framework for ensuring that all South Africans will have access to quality health services by 2026.
We welcome the concept of universal health coverage but also recognise the long legislative and regulatory road that lies ahead. It is therefore too early to determine the potential impact of NHI on our business or the opportunity it presents.
As Clicks is the largest retail pharmacy chain and UPD the largest pharmaceutical wholesaler, the group is well positioned to support the NHI system and potentially service 58 million South Africans compared to the current 8.9 million covered by private health insurance.
Outlook
While the consumer spending environment will continue to be constrained in the year ahead, the group has adapted well to trading in this protracted economic downturn and the group is confident of sustaining volume growth in the year ahead.
The business operates in defensive and growing health and beauty markets where the strategy and business model have proven to be resilient, ensuring that the group's market-leading brands are well positioned to increase market share.
Selling price inflation is expected to remain low in the first half of the 2020 financial year and the group anticipates that the annual increase in the single exit price (SEP) of medicines will be marginally higher than the current year.
Capital investment of R718 million is planned for the new financial year, focused on the store and pharmacy network, IT as well as retail and distribution infrastructure to support the increased scale of the business.
Appreciation
Thank you to our chairman, David Nurek, for his support and to our non-executive directors for their independent insight and guidance. I also extend my gratitude to the board for the confidence they have shown in me to lead the group.
My fellow executive directors Michael Fleming and Bertina Engelbrecht, together with the executive committees in Clicks and UPD, have again demonstrated outstanding leadership in ensuring the continued success of the business.
Our people at head office, stores and distribution centres ensure that we remain the country's leading health and beauty retailer and I thank them for their contribution in delivering results of which we can be truly proud.

Vikesh Ramsunder
Chief executive officer