Business review: UPD

UPD continued to increase its market share and gained four new distribution contracts to maintain its market-leading positions in both the pharmaceutical wholesale and bulk distribution markets.
Turnover increased by 4.0% and UPD grew its operating margin by 60 basis points to 3.3%, benefiting from new distribution contracts secured over the past two years.
UPD's total managed turnover, combining fine wholesale turnover with the turnover managed on behalf of bulk distribution clients, increased by 17.6% to R21.1 billion.
"UPD gained four new bulk distribution contracts and increased its portfolio of distribution clients to 30."
Wholesale turnover by channel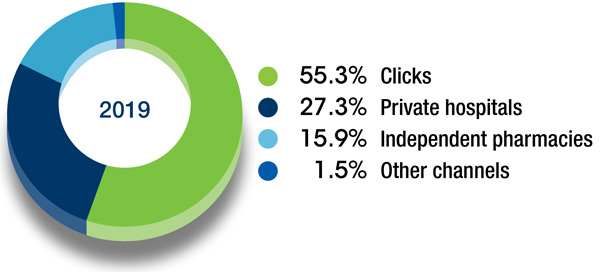 Wholesale turnover increased by 6.8%. Sales to Clicks pharmacies increased by 8.4% and Clicks remains UPD's largest single customer, accounting for 55.3% of wholesale turnover.
Sales to private hospital groups, including Life Healthcare, Mediclinic and Netcare, showed muted growth of 1.6%.
UPD services approximately 1 200 independent pharmacies and sales to this channel grew by 13.9% and accounted for 15.9% of turnover. The business benefited from the addition of a new buying group, improved purchases from the Link brand and the preference of independent pharmacies for UPD's excellent service levels.
View centralised distribution video
The strong performance from UPD's customer base contributed to wholesale market share increasing from 26.0% to 27.0%.
UPD faces ongoing margin pressure from the faster growth in lower-priced generic medication, with sales of generics increasing by 11.0% and now accounting for 68% of wholesale turnover volume.
As UPD has a relatively high fixed cost base management continuously seeks ways to off-set margin pressure by extracting efficiencies across all aspects of the operations, including inventory management, labour productivity and transport optimisation. UPD expenses, which include the costs related to the new distribution contracts, grew by 10.2%, well below the growth in total managed turnover of 17.6%.
UPD owns distribution centres located in Gauteng (Lea Glen), Cape Town, Durban, Bloemfontein and Port Elizabeth. All the distribution centres are ISO9001:2015 certified. Owing to the increasing scale and size of its third-party distribution business, UPD will be increasing its capacity by renting an additional warehouse facility in Gauteng.
Product availability, which is core to offering superior range and service to customers, averaged 96% for the year while on-time deliveries were at 98.5%.
Outlook for 2020
UPD aims to increase wholesale market share through the growth of the Clicks pharmacy channel benefiting from the planned opening of 30 to 35 new pharmacies in Clicks, purchases from Link pharmacies and service to the private hospital groups.
The business will continue to prospect for new distribution contracts and one new contract commenced in the first quarter of the 2020 financial year.
Capital expenditure of R83 million has been committed for warehouse equipment and information technology in the year ahead.
UPD remains committed to its long-term strategic objective of growing market share in wholesale to 30% and bulk distribution to 35%.
Vikash Singh
Managing director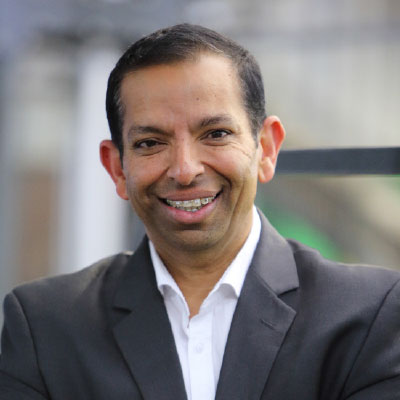 Vikash Singh (46)
Managing director
B Com (Acc), MBA
Joined the group in 2006
Appointed as managing director in 2015
Previously head of operations and distribution at UPD
A seasoned executive whose career has spanned financial, operational, supply chain and logistics responsibilities, with extensive experience in logistics management in both Clicks and UPD
Performance against objectives in 2019 and plans for 2020
Plans and targets for 2019
Achieved in 2019
Plans and targets for 2020
Increase market share to 26.5%
Market share increased to 27.0%
Increase market share to 28.0%
Maintain volume of business with private hospital groups
Sales to hospital groups increased 1.6% with volumes maintained
Grow volume of business with private hospital groups
Clicks' buying levels from UPD at 99%
Clicks' buying levels from UPD at 98.6%
Clicks' buying levels from UPD at 99%
Tender for new agency distribution contracts
Four new agency distribution contracts secured; 30 contracts managed at year-end
Tender for new agency distribution contracts
Plans and targets for 2019
Achieved in 2019
Plans and targets for 2020
Plans and targets for 2019
Achieved in 2019
Plans and targets for 2020
Maintain 99% on-time deliveries
Target 99% on-time deliveries
Drive further productivity initiatives across the business
Efficiencies achieved in labour and transport
Drive further productivity initiatives across the business
Improve order fulfilment to 96.8%
Order fulfilment of 99.1% achieved
Achieve order fulfilment of 98%
Plans and targets for 2019
Achieved in 2019
Plans and targets for 2020
Reduce employee turnover to 11%
Maintain employee turnover below 8%
Maintain Transported Asset Protection Association (TAPA) certification for transport fleet
Achieved TAPA Level 1 accreditation
Maintain TAPA accreditation
Market UPD training academy
Launched with 30 learners
Design and build replacement IT system
Design system solution and prepare roll-out