Group profile
Clicks Group is a retail-led healthcare group which is listed in the Food and Drug Retailers sector on the JSE.
Founded over 51 years ago in 1968, the group has been listed on the JSE since 1996. Following changes in South African legislation in 2003 to allow corporate pharmacy ownership, the group entered the retail pharmacy market with the opening of the first Clicks pharmacy in 2004. Today the group is a leader in the healthcare market, in both retail pharmacy and pharmaceutical wholesaling.
An overview of the group's history is available at www.clicksgroup.co.za.
Our values
We are truly passionate about our customers
We believe in integrity, honesty and openness
We cultivate understanding through respect and dialogue
We deliver on our goals
Sustained financial performance
15.0%


diluted HEPS
10-year CAGR
28.6%


total shareholder return
10-year CAGR*
18.1%


dividend per share
10-year CAGR
| | |
| --- | --- |
| * | Based on reinvestment of dividends paid and the closing share price. |
| ** | Based on HEPS. |

The anchor brand, Clicks, is South Africa's leading health and beauty retailer, offering value for money in convenient locations and appealing formats.
Clicks targets consumers in the growing middle to upper-income markets (LSM 6 – 10)
Clicks ClubCard is one of the largest loyalty programmes in South Africa with over 8.1 million active members
74% of ClubCard customers are women and 62% are in the 25 to 49 age group
51% of households live within five kilometres of a Clicks store
Differentiated product offering through wide ranges of private label and exclusive brands, comprising 22% of sales
The health and beauty franchise brands were introduced through exclusive franchise agreements to provide further differentiation to the Clicks offering:
2001 – The Body Shop, which sells natural, ethically-produced beauty products
2014 – GNC, the largest global specialty health and wellness retailer
2015 – Claire's, the leading specialty retailers of fashionable jewellery and accessories for young women and girls
2016 – the group partnered with Sorbet Holdings to develop Sorbet-branded products for sale in Clicks stores and Sorbet salons
The heritage business, Musica, is the country's leading entertainment retail brand and was acquired in 1992.
Market share

31.4%


of front shop health

Store footprint
Standalone stores
Pharmacies
Presence
in Clicks stores
South Africa
Rest of Africa
Total
Clicks
667
37
704
545
The Body Shop
56
4
60
204
Claire's
6
–
6
175
GNC
–
–
-
551
Musica
92
8
100
Total
821
49
870
Stores outside South Africa are in the neighbouring countries of Namibia, Botswana, Eswatini and Lesotho.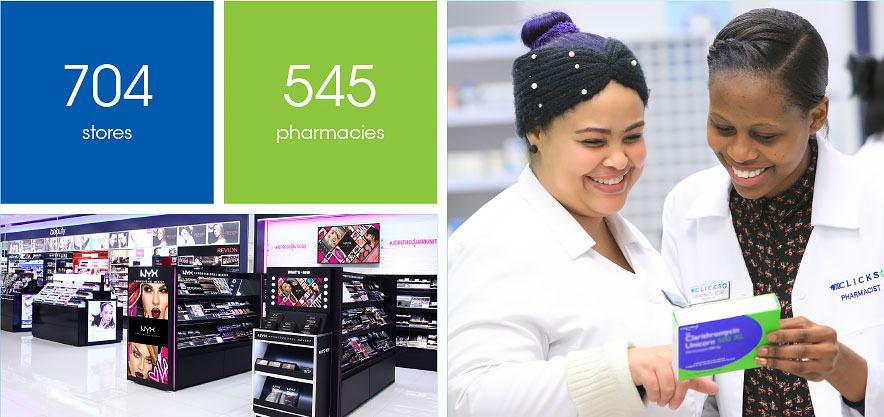 UPD is South Africa's leading full-range pharmaceutical wholesaler and the only one with a national presence. UPD was acquired in 2003 to provide the distribution capability for the group's healthcare strategy.
UPD fulfils the pharmaceutical supply needs of Clicks, major private hospital groups and almost 1 200 independent pharmacies.
UPD also provides bulk distribution services to pharmaceutical manufacturers.
Market share
R21.1bn


total managed turnover
27%


of private pharmaceutical
wholesale market
266m


units of medicine distributed
View centralised distribution video